Address

Kediya Business Park, GE Road, Tatibandh, Raipur 492001

E-mail

care@osdigital.in

Phone

+91 98688 91277
Hassle Free DLT Registration
DLT is the platform introduced by the operator in 2020. You can contact a free DLT registration service provider company who can do DLT registration on behalf of you. DLT Registration is free of cost and takes 24 to 48 hours of time to register your Enterprise, Sender id and template to the DLT platform. It has been observed that most of the SMS service users like Education sectors, Real Estate sectors, Financial sectors and most of the other sectors are stopped to avail SMS service because of the criticality of DLT registration and other formalities and documents required for the registration. OS Digital is the company who provides free DLT registration service and hassle free SMS service to integrate all your Sender ids and templates to your Bulk SMS user id. You can avail the service from OS Digital to avoid the DLT complex. You just need to share the below documents and details for the DLT registration, OS Digital will register your Entity in DLT without any charges:
A. DLT Registration Documents for Private Limited / Limited / Govt. Organization / Trust:
1. PAN SOFTCOPY of Organization.
2. PAN / Aadhar / Voter ID / Driving License of Director or Authorised Person.
3. GST / TAN / FSSAI / Incorporation / Shops & Establishments Certificates.
4. Mobile Number.
5. Email Id.
B. DLT Registration for Proprietor Firm:
1. PAN SOFTCOPY of Proprietor.
2. GST / TAN / FSSAI / Incorporation / Shops & Establishments Certificates.
3. Mobile Number.
4. Email Id.
C. DLT Registration with Personal Name:
1. PAN SOFTCOPY Personal.
2. Driving License / Voter Id / Passport.
3. Mobile Number.
4. Email Id.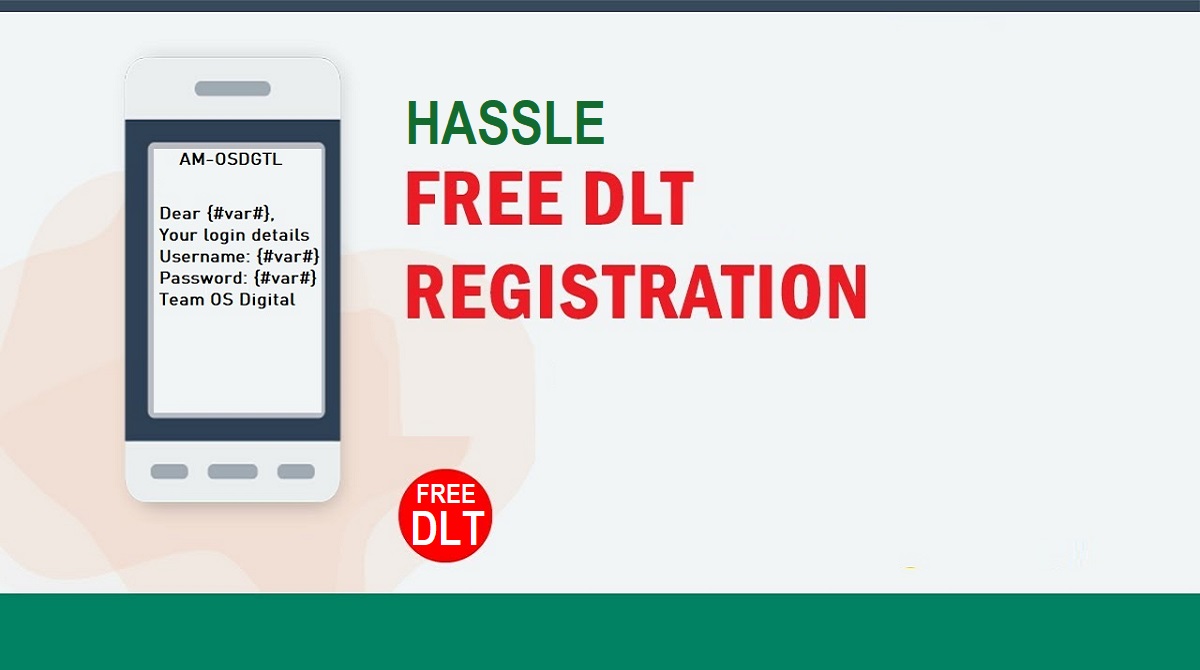 DLT, Distributed Ledger Technology has been introduced by operors in 2020 and TRAI (Telecom Regulatory Authority of India) has instructed the operator to apply the technology to prevent mobile users from the spam and pesky messages in 2018. Today the DLT platform has come into the force with all its required features and it is compulsory for all the SMS sender Enterprises to register their Entity in DLT. Below are the things which need to register in DLT platform to every Entity:
1. Entity Registration.
2. Sender ID Registration.
3. Template Registration.
As it has already been given above, about the Entity registration required documents. So the different categories of Enterprise can register their Entity using to upload the above given documents to be Signup to any of the below given DLT platforms. Every Enterprise needs to register in any one the operator's DLT portal.
Vodafone-Idea DLT Registration:https://www.vilpower.in/
BSNL DLT Registration:https://www.ucc-bsnl.co.in/
MTNL DLT Registration:https://www.ucc-mtnl.in/
Airtel DLT Registration:https://dltconnect.airtel.in/
Videocon Smartping DLT Registration:https://smartping.live/
JIO DLT Registration:https://trueconnect.jio.com/
At the End of the registration, you need to select Telemarketer. You can select OS DIGITAL , as your Unique Telemarketer and Enter Telemarketer ID : 1102456740000011303
Sender id and Template registration you can do after the successful Enterprise or Entity registration. Now you need to login to the same DLT portal created login credential while doing registration in the DLT portal. After login to the DLT portal, go to the Header section where you can add a new sender id by searching to enter the required sender id which should be related to your Enterprise or brand name. Sender id availability is on a first come first serve basis, if the sender id is available in search, you can submit it for registration. After successful verification of Sender id / Header it will be approved by the DLT operator.
After the successful registration of Header you can apply for the Message Template or Content Template registration. Now you need to go to the Template section and add the Content template to the template section followed by selection of Header and Consent Templates. After submitting content, DLT team verifies and if they find OK they approve it. One more important thing is, you need to add your brand or Entity name in the message content, without a brand name template will be rejected by the DLT.
Following the above process is very simple, still if anyone wants our help to do DLT registration, they can share their entity documents and we will do DLT registration on behalf FREE OF CHARGE.
Leave a Reply
Your email address will not be published. Required fields are marked *